This bathroom has been a long time in coming and a long time of planning and dreaming on my part.
The color scheme was the first thing set in my mind. I knew I wanted blue and white but had not decided on the particular blue until I saw this picture from
Joan @ For The Love Of A House blog.
The blue was not quite white, but not quite a true blue. The color is Horizon by Benjamin Moore.
We decided to go with a walk-in shower at the prompting of our contractor. He recommended doing some type of a pattern in the shower. I first picked out a gray/white marble porcelain tile for the large tile and then decided on the mosaic. The mosaic includes tiles of blue, aqua, gray and gray striped. All of our tile was purchased at Lowes. Our contractor, Danny, laid out the design for the shower. He also included in the right wall of the shower a small alcove just large enough for our shampoo, conditioners, and soap.
Of course, the optimum master bath would have two sinks and two mirrors. Two sinks was definitely not going to happen in a bathroom just 7' 8" by 5'. We are rarely both using a sink at the same time, but we often do need a mirror at the same time...so I thought why not have the two mirrors. These mirrors were purchased at Lowe's for a fraction of the cost of similar bath mirrors shown in
Pottery Barn catalogs
. I just love the tilting feature. We not only added the extra mirror but also an extra light, and an extra plugin outlet to the wall. The extra outlet allows whoever is working at that mirror the electricity needed for a curling iron, blow dryer, or electric razor without having to cross over the one standing at the sink. I believe this is my favorite part of the bathroom.
I also fell in love with this shelf from
The Fairfield House blog.
We removed a cabinet above the toilet and a medicine cabinet above the sink. This shelf afforded us some well needed extra space for bathroom supplies and gave us a place to rest makeup, curling iron, etc. Danny did a great job creating this shelf for us.
As I showed
before
in my inspiration pictures, I love vessel sinks. The ideal vessel sink for me would have been a white porcelain sink shaped like a big antique kitchen bowl. Vessel sinks like that do actually exist they just cost 4 times more than the sink we actually purchased. The sink below was purchased from Amazon.com as well as the faucet at great prices. This bowl is white on the outside but the inside is more of an aqua color. The description was "frosted glass". I wasn't really sure about the aqua with my color scheme, but the aqua in the mosaic in the shower matched perfectly and really pulled out this bright accent. Besides loving the design of a vessel sink, a vessel sink also leaves so much more room on the counter area of the sink. Having that extra space below where the sink stands makes these types of sinks perfect for small bathrooms.
The counter is granite. I know...it looks marvelously like marble! Our contractor was able to purchase scraps of granite at a local supplier to use in our bathroom. We were really fortunate to find a color that exactly matched the shower tile.
I used vintage canning jars for bath supplies and decorative elements on the shelf. The aqua in the jars help tie in the aqua accents in the bathroom.
Our floor tile is ceramic - also purchased at Lowes. Our contractor warned us that ceramic tile is much more slick when wet than porcelain tile, but I couldn't find any porcelain tile that I liked. I decided our bathroom floor was so small (about 5' x 5') that we wouldn't be as likely to slip with two rugs on the floor. So far we haven't hit any slick spots. :)
This is our towel wall. When I saw the beadboard wall on
The Lettered Cottage's
dining room wall, I knew it would be perfect in a bathroom. I have ordered hooks from an iron forger on Etsy called
Furnacebrook
. Hooks will be installed on this board for towels and wash cloths. I don't know about your men, but mine don't know how to use a towel rack. Hopefully, they will use a hook. :)
thelettered cottage.net


Here are a couple of before/after shots that matched up pretty good so you can see the wonderful changes in this remodel/renovation.
If you missed either of the earlier posts on this bathroom, they are listed below:
Before & After: The Master Bathroom (Before, Progress, and Inspiration)
Before & After: The Master Bathroom
Linking with :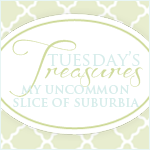 Thanks for stopping by,
Judy :)